Ditherm is making progress in the development of materials
home Articles Ditherm is making progress in the development of materials
CHEMICALLY BONDED REFRACTORIES (MIXTURES)
For several years, DITHERM a.s. has been using an internal protection in some carefully selected parts of aggregates consisting of a coating of a chemically bonded heat-resistant mixture. These materials have been developed by manufacturers as an alternative to refractory mixtures. The main reason for their use was the changing conditions for repairing aggregates, especially the shortening of repair times and the investor's need not to dry out the lining. Another influential factor for the choice of chemically bound mixtures is the use of alternative fuels, which, when combusted, create a highly acidic environment and thus damage the lining very quickly. The investors´ unavoidable requirement was therefore the demand to significantly reduce the corrosion of linings in processing aluminium, cement production, but also in the power industry and incinerators.
The properties of the refractory mixtures allow the base to be mixed to withstand the operating conditions of the aggregate. Ideal is the chemical analysis of flue gases, like the measurement of their acidity, or other properties. However, these mixtures are limiting due to their hydraulic bond, in which water is loosely bound.
For chemically bonded mixtures, it is possible to make multiple variants of materials that are more resistant to operating conditions than materials with hydraulic bonding, using the material base and different types of bonds. At the same time, chemically bound mixtures contain significantly less water. Its release occurs in a large temperature range, which means that the material can be tempered at an increased speed.
The weakness of these materials was at first in their lower technical parameters - particularly with regard to strength and abrasion resistance - compared to hydraulic bonding materials. However, this shortcoming is almost eliminated.
Additionally, chemically bonded materials have been developed which in many cases exhibit better performance than hydraulic-bonded materials.

WHY DITHERM STARTED TO USE CHEMICAL MIXTURES
1. Reduce aggregate start-up time after repair
The chemical bonding materials have the potential for high initial heating rates after installation. There is also no need for cure time, as is the case with hydraulically bonded materials. However, there is a risk of exceeding the initial heating rate in terms of mechanical tension in the lining. It is necessary to take into account the composition of the lining layers, the lining thickness, its geometry, etc. It is usually possible to achieve the same speed as when heating the cold lining after the shutdown.
2. Higher corrosion resistance
With a suitably chosen material base and bond, there is no corrosion at all or corrosion is several times slower than that of refractory concrete.
3. Greater adhesion of the mixture
The chemically bonded compounds usually have better adhesion to the damaged lining. However, it is necessary to test whether the applied material does not react with the substrate due to chemical bonding, which would reduce the adhesion. In some cases, it is also possible to carry out applications at higher and lower temperatures. Our experience is based on temperatures from -5 °C to 300 °C. It has to be evaluated on a case-by-case basis and many calculations have to be carried out, it is not possible to generalize in this area.
4. Different types of chemical bonds of refractory materials
DITHERM has experience with materials with so-called phosphoric bonding in melting and fixation furnaces for aluminium processing. Further, with the sol-gel SiO2 bond. These materials have proven themselves in alkaline corrosion environments, e.g in power plants, biomass and wood waste incineration, cement plants and incinerators. For this type of application special equipment must be available and other compressed air parameters are available than with conventional hydraulic tortuous materials. DITHERM has such equipment at their disposal.
Chemically bound mixtures develop continuously, and therefore require continuous testing of new mixtures - DITHERM has carried out the first insulation of chemically bonded mixtures in the Czech Republic.
In order to compare the properties of the hydraulically and chemically bonded mixtures, we attach the following table: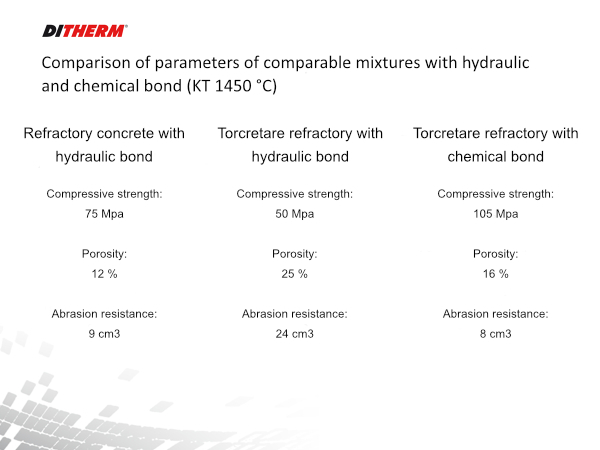 Find out more